Advertisement. Scroll to continue reading.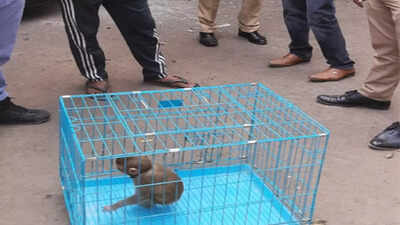 The monkey's health is currently being monitored after informing the forest officials.
NAVI MUMBAI: A baby monkey which was cruelly chained to the back of a truck was successfully rescued from APMC market at Vashi by the animal activists of Bhumi Jeevdaya Samvardhan Trust. The monkey's health is currently being monitored after informing the forest officials.
"I had received a call from Ashish Bhanushali who works at APMC wholesale market, that a baby monkey was seen on Friday afternoon tied up with a chain to a truck in the grain section of the market. I then informed the local APMC police station and reached the site to personally check the animal. The monkey was looking stressed as it was not in its natural surroundings," said Sagar Savla, founder of the Trust.
He then called up the wildlife rescuer Sahil Shaikh and also the Thane range forest official, Darshan Murkute, who gave Savla the permission to take custody of the baby monkey and monitor his condition.
"When we asked the truck driver and the cleaner how they had acquired the baby monkey, they could not give a proper answer, and merely said that the monkey was their pet. When we explained to them that monkeys are protected species under the Wildlife (Protection) Act, 1972, they readily handed over the monkey to us," said Savla.
The Bhumi Jeevdaya activists further informed that the truck cleaner had also told them that monkeys are being sold in certain areas in Uttar Pradesh state.
"We told them that it is illegal to buy or sell monkeys. Also, since many monkey families are also seen along the highway close to Karnala Bird Sanctuary near Panvel, it is possible that monkey poaching is happening. Anyhow, we are at present taking care of the rescued monkey, and will further report to the forest department in a few days," said Savla.

FacebookTwitterLinkedinEMail